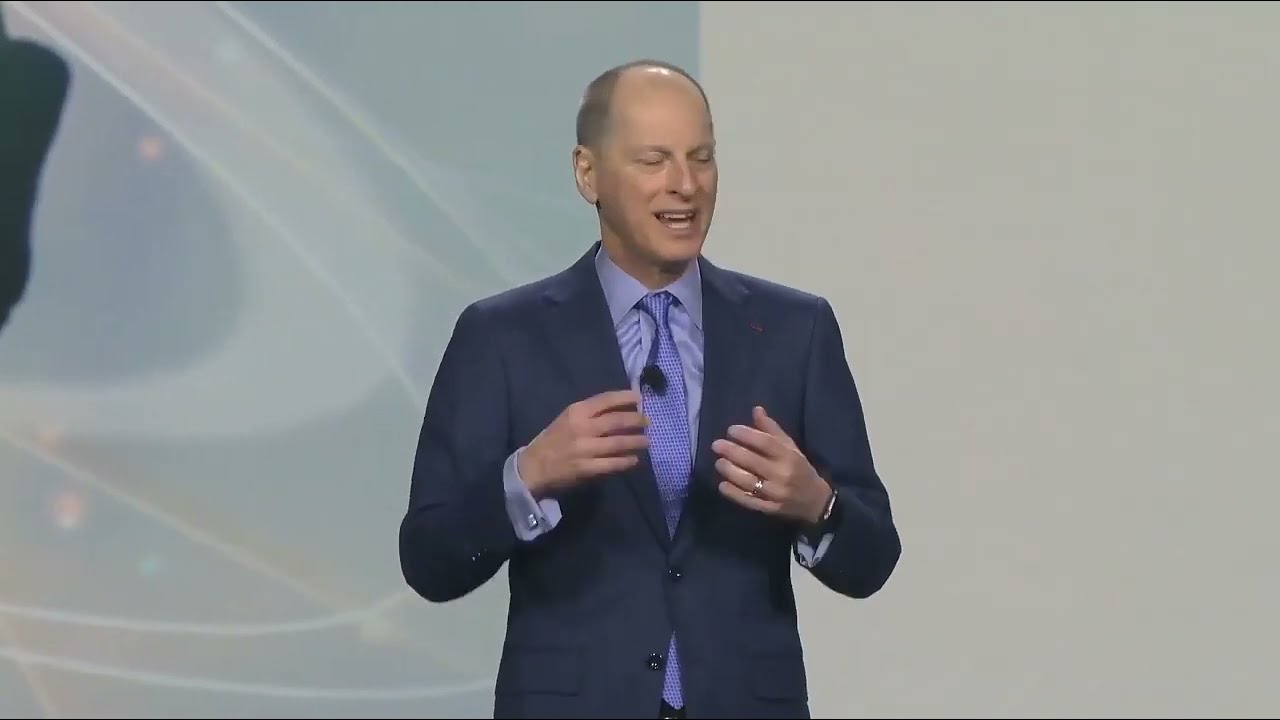 CAMPAIGN LAUNCH:
HUMAN SECURITY EMERGES AS A PRIMARY DRIVER OF TECHNOLOGY INNOVATION AT THE 2023 CES
The campaign was kickstarted through a landmark partnership with the Consumer Technology Association (CTA) and launched at the 2023 Consumer Electronics Show (CES), the most important consumer technology exhibition in the world. Attracting over 120,000 business and technology experts from around the world, the event took place from January 6 to 9 in Las Vegas and featured the latest innovation and advancements across a wide range of sectors. For the first time in 50 years, CES was given a theme — Human Security For All and CTA called on its member companies to adopt this theme as a social mission to mainstream human security.
As the inaugural event of the HS4A campaign, CES spotlighted the role of technology for addressing key dimensions of human security and prompted discussions on how innovative technologies of member companies are used to make a positive impact globally by improving the safety and security of individuals, communities, and societies around the world.
The programming of CES2023 was curated by the HS4A campaign with the aim of bringing together leading thinkers to discuss technological solutions to the world's most pressing challenges and highlight the potential of technology to effectively address the full range of threats to human security and make the world safer, including financial inclusion for the poor, enhancing ecological sound food production, and advanced tools for digital learning.
"This CES showed us that the next big thing isn't a new technology, it's a new idea. Human Security is that idea."
Walton Stinson
Director, Human Security For All campaign and CEO, ListenUp
Mass Inclusion Enabled by Technology
Closing the Global Education Gap
Using Tech To Create A Sustainable Food Supply
INNOVATION AWARDS FOR HUMAN SECURITY:
CES 2023 INTRODUCES AWARDS CATEGORY TO RECOGNIZE COMPANIES ADDRESSING HUMAN SECURITY
To foster the efforts of CES member companies responding to human security needs through technology innovation, CTA launched a new category for the CES Innovation Awards focused on human security. The award is given to innovations specifically addressing one or more of the human security dimensions: food, health, economic, environmental, personal, political and community. "We are thrilled to spotlight thousands of innovative companies at this year's show," said Gary Shapiro, president and CEO of CTA in the Opening Keynote and State of the Industry Address. "Tech advances are helping to solve the world's greatest challenges, and CES 2023 will set the agenda for the year ahead."
FEATURED REPORT:
TECHNOLOGY FOR A SECURE, SUSTAINABLE AND SUPERIOR FUTURE
The launch of Technology for a Secure, Sustainable and Superior Future: Tech as a Force for Good report placed a spotlight on the data around human insecurity and how technology innovation can offer sustainable solutions.
The report was prepared by Force for Good, a WAAS Research Center and partner in HS4A. The report highlighted the enormous untapped potential for addressing the human security needs embodied in the 17 Sustainable Development Goals by technological innovations.
Force for Good is an impact-driven institution focused on transforming capitalism for a sustainable and resilient future. The organization seeks to influence the deployment of capital to address major global issues and opportunities in this regard by working with key stakeholders, including some of the largest financial institutions in the world.
"The focus on capital and the financial institutions that manage capital has taken the primary position of interest for the UN and other transnational institutions. While capital is a critical component, it is technology that is likely to determine whether many of the goals can be met."
Ketan Patel
Chairman, Force for Good platform and initiative
"Successful businesses are already looking ahead to the next opportunity, especially in times of volatility and change. These findings are a call to action to the technology sector, which – despite current headwinds – remains indispensable if the world is to achieve inclusive, sustainable growth for all."
Jon Miller
Force for Good Advisory Council Member
and Former Chairman and CEO of AOL Inc.
HUMAN SECURITY, CULTURE AND RELIGION:
HS4A AT THE 9TH ANNUAL SYMPOSIUM ON THE ROLE OF RELIGION AND FAITH-BASED ORGANIZATIONS IN INTERNATIONAL AFFAIRS
The interfaith symposium was the ninth in a series of annual events organized by a consortium of faith-based organizations in collaboration with the HS4A campaign and a number of UN agencies. The hybrid event was held in New York on January 24, 2023 to address threats to human and planetary security and examine how religious, theological, ecumenical, and interfaith groups have translated the theme of human security into concrete engagement on the ground.
The symposium emphasized the role of religious organizations, UN system institutions and member states in contributing to the development of "unity, solidarity, international cooperation and globally coordinated action" on the human security theme. Speakers from WAAS and UNTFHS represented HS4A, including Mehrnaz Mostafavi, Chief, UN Human Security Unit and Garry Jacobs, President, World Academy of Art and Science.
HS4A PARTNERSHIP ANNOUNCEMENT:
INTERNATIONAL AMATEUR RADIO UNION (IARU)
The International Amateur Radio Union (IARU) has announced that Human Security For All (HS4A) will be the special theme of World Amateur Radio Day on April 18, 2023. HS4A is partnering with the IARU in a campaign to highlight the role of Amateur Radio in addressing the world's most pressing human security needs.

Amateur radio is a truly global communications medium, encompassing some three million radio enthusiasts who connect communities and people around the world. The IARU, a federation of the national amateur radio societies of more than 150 countries worldwide, is the global advocate for amateur radio through its sectoral membership in the International Telecommunication Union, an agency of UN, and other activities.

To celebrate World Amateur Radio Day, the IARU and its member societies will host a two-week special event on April 11-25 on Human Security For All. Special event stations will make radio contacts from around the world to raise awareness of the HS4A campaign.
UPCOMING EVENT:
6TH INTERNATIONAL CONFERENCE ON FUTURE EDUCATION: EDUCATION FOR HUMAN SECURITY
Join us on March 7-9, 2023, for the sixth International Conference on Future Education focusing on Education for Human Security. This online conference is being organized by WAAS, World University Consortium and SNSPA in support of HS4A in partnership with SDSN Europe, Black Sea Universities Network, Force for Good, London School of Economics, UNESCO Bridges, Arizona State University's Global Futures Laboratory, International Anti-Corruption Academy, and the Jena Declaration.
PREMIERED, WATCH NOW:
HUMAN SECURITY MEDIA LIBRARY
HUMAN SECURITY AND TECHNOLOGY
HUMAN SECURITY, RELIGION AND CULTURE
Copyright © 2023 World Academy of Art and Science | All rights reserved