Dr. Nancy Flournoy is the recipient of The Eleventh Annual Janet L. Norwood Award
JULY, 2012 – The School of Public Health at The University of Alabama at Birmingham is pleased to announce Dr. Nancy Flournoy as the recipient of the Janet L. Norwood Award for outstanding achievement by a woman in the statistical sciences. The school recognizes the contribution of all women to the statistical sciences. READ MORE>>
---
Professor Mendis appointed to the US National Commission for UNESCO by Secretary Clinton
JULY, 2012 – United States Secretary of State Hillary Clinton has appointed Professor Patrick Mendis as a commissioner to the US National Commission for UNESCO. The Commission is a federal advisory committee at the Department of State that provides advice regarding the US government's activities as a member of the United Nations Educational, Scientific, and Cultural Organization (UNESCO). READ MORE>>
---
Dr. Riane Eisler's General Assembly speech posted on UN website
MAY 20, 2011—WAAS fellow Riane. Eisler's speech to the UN General Assembly on April 20, 2011,"The Real Wealth of Nations: Creating an Economics of Partnership," is available on the United Nations website… READ MORE >>
---
Panel set to discuss Caring Economics and East-West Relations at 2011 Academy of Management Conference Symposium
MAY 03, 2011—Under the theme "Women, Men, and Care in the New East-West Economy," panelists including WAAS fellow Riane Eisler will engage in a multi-disciplinary conversation where they will explore how relationships are formed between people of different cultures, background, belief systems and sexes in the handshake of… READ MORE >>

---
Two Caring Economics Professional Development Workshops to be held at 2011 Academy of Management Conference
MAY 02, 2011—Under the theme, "Caring Economics: Building and Leading Caring Societies, Organizations and Leaders through Action-Research Projects," two Caring Economics professional development workshops co-developed by WAAS fellow Riane Eisler will be held at the 2011 Academy of Management (AOM) meeting August 12-16, 2011… READ MORE >>
---
Alberto receives Charlotte and Karl Bühler Award
Fellow and Trustee Alberto Zucconi, President of il Istituto dell'Approccio Centrato sulla Persona (IACP), was honored by the Humanistic Division of the American Psychological Association, Division 32 with the Charlotte and Karl Bühler Award for outstanding and lasting contribution to humanistic psychology.
---
Zakri is Science Adviser to the Prime Minister
Fellow Dr Zakri Abdul Hamid, has been appointed science adviser to the Prime Minister and Government of Malaysia. More details on StarOnline.
---
Walt receives Don M. Michael Award
President-Emeritus, Walter Truett Anderson, is the 2010 recipient of the Don M. Michael Award in recognition of his work as a political scientist and author. Congratulations, Walt, from us all!
---
Outstanding Service Award to Patrick Mendis
The US Department of Agriculture presented the USDA Graduate School's Outstanding Service Award to Patrick Mendis who served as a member of its Governing Board. It was a four-year appointment by the US Secretary of Agriculture.
---
Ivo Slaus honored at Board Meeting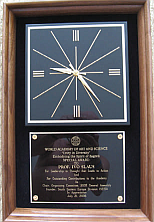 At this year's meeting of the WAAS Board of Trustees, held at the Vallombrosa Retreat Center in California, Prof. Ivo Slaus of Croatia was honored for his outstanding contributions to the Academy as chair of the organizing committee for the 2005 General Assembly and founder of the South Eastern Europe Division (SEED). The citation also identified him as embodying "The Spirit of Zagreb" and for "Leadership in Thought which Leads to Action."
---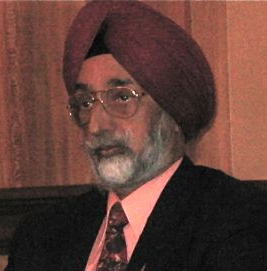 Jasjit Singh was a 2006 recipient of the Padma Bhushan, a decoration established in 1954 by the president of India and given for distinguished service of high order in any field. Air Commodore (Ret) Singh is a former director of operations of the Indian Air Force and former director of the Institute for Defence Studies and Analyses(IDSA). He has published extensively and is the author and editor of more than two dozen books on strategic and security issues of South Asia. He is currently active in the Academy's program on nuclear disarmament.
---
James Hughes is chair and principal organizer of a conference on "Human Enhancement Technologies and Human Rights," which will take place May 26-28 at the Stanford University Law School. The conference will "seek to begin a conversation with the human rights community, bioethicists, legal scholars, and political activists about the relationship of enhancement technologies to human rights, cognitive liberty and bodily autonomy." Contact: director@ ieet.org.
---
Calestous Juma was the featured speaker at this year's John Pesek Colloquium on Sustainable Agriculture, held annually at Iowa State University. Dr.Juma, who is professor of the practice of development and director of the Science, Technology and Globalization Project at Harvard University, spoke on "Reinventing African Economies: Technological Innovation and the Sustainability Transition,"
---
Steven Walther has been appointed as a Democratic member of the U. S. Government's FederalElections Commission, the six-member body responsible for administering and enforcing the Federal Election Campaign Act which regulates the financing of campaigns for President, Senate, and House of Representatives. By law no more than three commissioners can be members of one political party. Mr.Walther, a founding partner of the Nevada law firm of Walther, Key, Maupin, Cox and LeGoy, has been actively involved in the creation of the American Bar Association's Center for Human Rights, and the development of its Central European and Eurasian Law Initiative (CEELI).
---
Jack Trevors of the Department of Environmental Biology at the University of Guelph has been elected a Fellow of the World Innovation Foundation.
---
Marc Luyckx, director of the think tank 2020 Vision in Brussels and former member of the Forward Studies Unit of the European Commission, has been appointed dean of studies in the new CBA Business School located in Zagreb. The school has been created partly with the assistance of the World Business Academy based in California, of which Dr. Luyckx is a fellow. CBA intends to be among the first "new paradigm" business schools in the European Union, preparing students for the new business model which builds on corporate social responsibility, sustainability and sustainable growth, the increasing importance of human capital, and the personal and spiritual growth of leadership. In announcing his new appointment, Dr. Luyckx writes: "We are indeed entering a knowledge society, post-capitalist and post-industrial. The issue today is not to have the newest, best, and cheapest technology. It is rather to be able to invent the new business practices and structures of management that correspond to this new society. Our dream, in CBA Business School, is to be in front of the wave."