The Science of Networks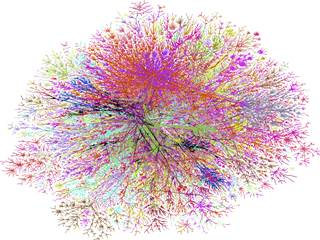 Proceedings of the Live Web Seminar on November 8th, 2012
Science of Networks
NOW AVAILABLE ON OUR WEBSITE
Click here to listen to the Webcast or download it 
Download Presentation Slides and Papers for the webcast
The e-workshop will explore the development of Network Science and its application to a broad range of fields, including:
The spontaneous emergence of networks and their impact on democratic processes.
Health research and disease dissemination.
Evolution of relationships between individual members of society impacted by advances in technology, communications and social development.
The role of money as a networking instrument and the impact of networks on the worldwide financial crises.
The process of social development as the growth & integration of society as a network.
Global society as a network of governmental, commercial and civil society organizations.
Impact of diminishing bio-diversity on human society and at the planetary level.
The role of institutions governing today's complex industrialized societies.
Similarities in architecture and governing principles between microcosm and macrocosm, and between systems in diverse fields such as cellular biology and the internet.
Mega-networks in the field of communication, energy distribution via smart grids, etc.



Introduction to Science of Networks

by Winston Nagan



Overview on Science of Networks

by Raoul Weiler



Science of Networks

– An Economics Perspective by Zbigniew Bochniarz

Networks Viewed as Key Elements in Human Cognition Science of Networks by Merlin Donald



Social Evolution and the Science of Networks

by Garry Jacobs
Introduction to Science of Networks by Winston Nagan Statement Video
Overview on Science of Networks by Raoul Weiler Paper Video
Science of Networks – An Economics Perspective by Zbigniew Bochniarz Paper Video
Networks Viewed as Key Elements in Human Cognition Science of Networks by Merlin Donald  Paper Video
Social Evolution and the Science of Networks by Garry Jacobs Paper Presentation Video