There is an urgent need to fill the global leadership vacuum in order to address the complex, pressing challenges confronting humanity today. The Global Leadership project was launched by WAAS and the UN Office in Geneva in November 2019 to address this critical need. This multi-stakeholder, multi-sectoral project highlights innovative strategies and effective principles to accelerate the emergence of dynamic leadership for successful implementation of the SDGs. The project will involve consultations with IGOs, nation-states, business, scientific research and educational institutions, civil society and youth organizations.
The overarching objective of the project is to become a catalyst to accelerate the emergence of leadership for global development. Its strategy is to consciously apply at the global level essential principles of effective leadership that have previously served as catalysts for rapid transformation.
"The aim of this initiative is to identify strategies for a new transformative leadership to successfully accelerate progress on pressing global challenges."

Tatiana Valovaya

, Director General, UNOG
Featured Events
Global Leadership in the 21st C.
This conference examined leadership strategies for a renewed multilateralism through the engagement of civil society, media, youth networks, social movements, and the private sector. It was the culmination of a one-year joint project to develop cross-sectoral catalytic strategies to address global leadership challenges.
Strategies for Transformative Global Leadership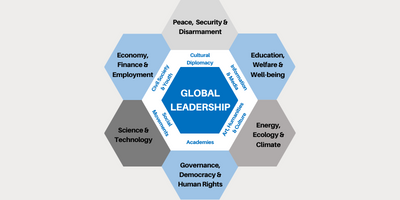 WAAS along with 20 partner organizations organized an e-conference covering political, economic, financial, educational, social, health, cultural and ecological issues. The conference identified catalytic strategies and successful initiatives to fill the global leadership gap and generate positive momentum for progress.
Youth Leadership Day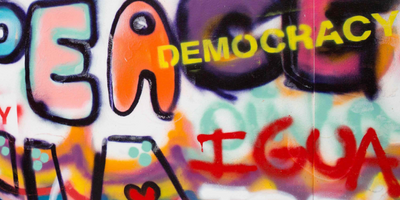 The Permanent Secretariat of the World Summit of Nobel Peace Laureates and WAAS conducted a Youth Leadership Day event online. The event offered youth the chance to learn from leaders in the field of peacemaking, covering topics such as human rights, peace, education, science and technology, arts, economy and climate change.
Reports
WAAS-UNOG Report on GL-21
The report addresses 5 interdependent pillars of a comprehensive approach to building global leadership—Redefining Multilateralism, Sustaining Peace & Human Security, Mobilizing Civil Society, Financing Implementation of SDGs, and Transforming Education. Under each pillar it identifies key areas for breakthrough initiatives.
GL-21: Conference Report
This report summarizes the main discussions of the WAAS-UNOG conference on GL-21 held in December 2020. The conference was the culmination of a 1 year joint project to develop cross-sectoral catalytic strategies to address current leadership challenges. It explored the integration of research into policy making and implementation.
Events
Published Articles
New Paradigm
In 2013 WAAS embarked on a new project to examine the global challenges and opportunities confronting humanity in the 21st century. The first phase of the project was launched at a conference at the United Nations Office in Geneva on June 1, 2013 jointly conducted by WAAS and UNOG with the participation of 200 senior diplomats, heads of research institutions and civil society organizations. Phase I led to the publication of more than 100 articles on different sectors of global society, including peace and security, global governance, democracy, economy, finance, employment, education, ecology and environment, society and culture. Phase I identified certain common characteristics of all the challenges confronting humanity and argued that a mere change in public policies would be inadequate to address any of them. More fundamental changes would be needed necessitating a paradigm change in approach, including a reconstitution of institutions at the national and global level, a reformulation of social theory to take into account the interlinkages and interdependencies between sectors, a restructuring of education to overcome the barriers created to independence silos of knowledge and fundamental changes in the way we think of global issues. The outcome of Phase I conferences and published papers led eventually to the launch in 2019 of Phase II of collaboration between WAAS and UNOG under the title Global Leadership in the 21st Century as presented above.
Published Articles
Leadership
Global Leadership in the 21st Century, David Harries, Oct 2019
Toward a Comprehensive Approach to Paradigm Change, Jakob von Uexkull – Sep 2014
Book Review – Avant-Garde Politician: Leaders for a New Epoch by Yehezkel Dror, Michael Marien – Oct 2014
Expanding Network of Networks, Orio Giarini, Heitor Gurgulino de Souza, Garry Jacobs, Ivo Šlaus, Alberto Zucconi – Apr 2014
Ten points on New Paradigm, Kassym Jomart-Tokayev – Nov 2014
Priming the Policy strata for Fateful Choices, Yehezkel Dror – Feb 2015
Leadership for a New Paradigm in Human Development, Janani Harish – May 2015
Uncorking the Future: Transitions to a New Paradigm, Garry Jacobs – May 2015
Integrating Ideas and Organizations Toward a New Paradigm, Thaddeus C. (Ted) Trzyna – Mar 2015
Seed-Idea: Musings on a New Paradigm, Jonathan Granoff – Oct 2013
Crises & Opportunities
The World in 2052, Ian Johnson – Oct 2011
Crises & Opportunities: A Manifesto for Change, Ian Johnson, Garry Jacobs – Oct 2012
The Role of Crises in Social Evolution, Ljudmila Popovich – Jun 2013
A Creative Moment, Garry Jacobs – Jun 2013
New Paradigm: The Necessity and the Opportunity, Garry Jacobs – Apr 2014
New Paradigm Quest, Alexander Likhotal – Apr 2015
Viable Solutions to Seemingly Intractable Problems, Ashok Natarajan – Oct 2015
Mind
Scientific Reversal in the Offing?, Robert van Harten – Oct 2018
Ways of Knowing: Life Beyond Chaos, Garry Jacobs – Mar 2014
Social Power and Social Development
Society and Social Power, Janani Harish – Oct 2014
Unification in the Social Sciences: Search for a Science of Society, Garry Jacobs, Winston Nagan, Alberto Zucconi – Oct 2014
Viable Solutions to Seemingly Intractable Problems, Ashok Natarajan – Oct 2015
Social Capital and the New Paradigm Thinking, Winston P. Nagan – Mar 2015
The New Paradigm of Social Evolution: Modern Society between Hope and Tragedy, Dimitar Tchurovsky – May 2015
In Search of a New Paradigm for Global Development, Ivo Šlaus, Garry Jacobs – May 2013
New Paradigm in Human Development: A Progress Report, Ivo Šlaus, Garry Jacobs – Oct 2013
Economics, Money and Finance
Quest for a New Paradigm in Economics – A Synthesis of Views of the New Economics Working Group, Garry Jacobs, Mark Swilling, Winston P. Nagan, Jamie Morgan, Barry Gills – May 2017
Introduction to the New Paradigm of Political Economic Theory, Winston P. Nagan – Nov 2015
Discussion of Some Elements of the "New Economy", Yehuda Kahane – Mar 2014
Civilizational Paradigm Change: The Modern/Industrial Case, Ruben Nelson – Sep 2014
Changing the Dominant Paradigm in Economics, Maria de Lourdes Mollo – Oct 2015
New Paradigm in the Service Economy – The Search of Economics for Scientific Credibility: In between Hard and Soft Sciences, Orio Giarini – Oct 2014
Education
Report on Future Education Symposium, Janani Harish – Oct 2015
The Coming Revolution in Education, Alberto Zucconi, Garry Jacobs – Apr 2014
Towards a New Paradigm in Education, Garry Jacobs – Apr 2014
The Evolution of the Educational Paradigm, Carl Edwin Lindgren – Oct 2013
Future of Education, Janani Harish- Oct 2013