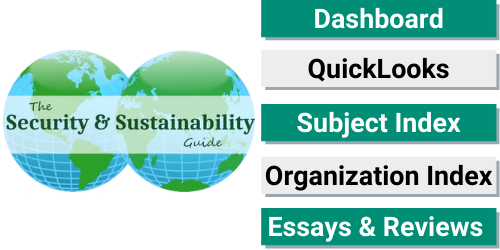 The world critically needs a more inclusive and comprehensive approach to policy-making, which will enhance our ability to cope with future crises such as climate change. The Academy is striving to promote a comprehensive multidisciplinary perspective and integrated multisectoral approach to addressing the crisis.
The WAAS SSG project has identified and concisely abstracted 2200+ global organizations concerned with security (including peace, food, water, health, cyber, human rights, arms control) and sustainability (including climate, energy, cities, biodiversity, forests, oceans, law, business). The basic premise is: "Humanity cannot be secure without sustainability, nor sustainable without security."
We must move beyond our personal and organizational "silos" and begin to appreciate the many hundreds of organizations and alliances that are working toward one or more of the UN SDGs. To this end, organizations in the Guide (www.securesustain.org) are categorized in various ways for easy access. Many of these organizations issue free, authoritative, online reports on security and sustainability issues. The SSG lists dozens of these reports, and assembles an annual "Report on Global Reports" highlighting the top 25 deserving attention.
Overview: 71 Notable Organizations highlighted, 50 Individual Change Leaders profiled, 170 Information Portals, 2200+ Organization Descriptions (date founded, main office, purpose, projects, publications), Search Guide by keyword, Essays and Reviews by SSG Staff.
WAAS Statements: Garry Jacobs on the expansion of global civil society and interdependence of global challenges (as simply illustrated by the SSG); Heitor Gurgulino de Souza on UN concern about security and sustainability since its founding in 1945.
Staff: Michael Marien (US; Senior Principal), David Harries (Canada; Security Principal), Michael Sales
(US; Organization Learning Principal), Friedrich Hirler (Germany; Senior Editor); Cyrine Azaiez (Tunisia; Assistant), Iman Bint Abdul Wajid (Pakistan; Assistant), Lorenzo Emilio Rodriguez Vargas (Venezuela/Turkey, Assistant); Marta Neskovic (Serbia; Assistant).
Reports:
"RRR: Report on Recent Reports #3, Fall 2022"
"RRR: Report on Recent Reports #2, Summer 2022"
"RRR: Report on Recent Reports #1, Spring 2022"
"Scientists Reporting: Top 25 Recent Online Reports on the Global Environmental Emergency," Cadmus, 4:1, Oct 2019.
"COVID-19 Reports: What Experts Expect & Propose," Cadmus, 4:3, Oct 2020.
"Report on Global Reports: The Whale and the Minnows," Cadmus, 4:4, March 2021.
"Our Common Agenda: Review of Five UN75 Sustainability Reports," Cadmus, 4:5, Oct 2021.