As part of our continuing effort to increasing the reach, frequency, range and effectiveness of programming and interaction among our Fellows, the Academy has developed an e-conferencing and video-conferencing platform for live virtual meetings, presentations and panel discussions of up to 23 participants, which are recorded and hosted on our website for viewing and discussion by Fellows and the general public.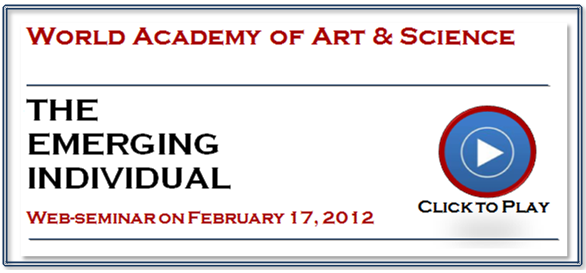 As a warm-up for the Montenegro Conference in June 2012, the World Academy of Art & Science conducted a two-hour live web-seminar on The Emerging Individual, on Friday, February 17th, 2012. This seminar involves short presentations followed by an open discussion of themes related to the Academy's Individuality Project.
Individuality is the crown of human evolution and the catalyst for social progress, yet there are very different conceptions of what constitutes true individuality, the relationship between the individual and society, and whether humanity is inevitably evolving toward higher levels of individuality. This project will explore the essential nature of individuality, the social and cultural factors that foster it, its role in social development, its myriad expressions in the original thinker, creative artist, political leader, entrepreneur, inventor and social innovator, and the means available to society to foster it.
Watch the Webcast Video
Audio Recording (.mp3 file)
Presentations/Abstract