| | | |
| --- | --- | --- |
| | Global Leadership in the 21stCentury | |
Due to social distancing at the UN, the number of physical participants for the Geneva Conference
(December 15-16, 2020)
will be strictly limited. Those who wish to attend physically can 
regis
ter here
and await confirmation.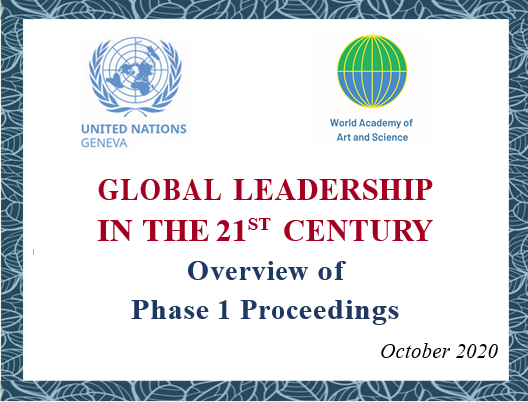 World Academy of Art & Science's project Global Leadership in the 21st Century (GL-21) undertaken in collaboration with the United Nations Office in Geneva (UNOG) is a transdisciplinary, multisectoral, multistakeholder initiative to address the leadership vacuum preventing effective progress on pressing global challenges. The objective of the project is to fill the present leadership vacuum by identifying catalytic strategies and initiatives that can be taken to accelerate global and national progress on pressing global challenges including COVID-19, peace and security, ecology and climate change, economy and employment, inequality and wellbeing, technology and other priorities set forth in the SDGs. We are looking for ways to break the log jam, overcome vested interests and entrenched resistance and generate some positive momentum.
The project is intended to serve as a platform to highlight and project the work of partner organizations and integrate them within a coherent overall framework for global social advancement. It includes consultations with UN agencies, member states, scientific research and educational outstanding experts and institutes, NGOs, business and finance, the arts, media and youth. It will culminate in a major conference at UNOG on December 15-16, 2020 followed by a final report to the UN and outreach measures.